24 hours a day/
7 days a week

or fill out the form
Bail Bonds Request Form
Call us anytime at 877.647.4701 -or- complete the form below and a friendly bail bond agent will contact you immediately.
Bail Bonds San Diego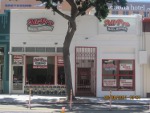 All-Pro Bail Bonds San Diego provides Bail Bonds services to inmates detained in the San Diego, California area. The All-Pro Bail Bonds San Diego branch office is located at 109 W C Street Suite E. Contact your local San Diego Bail Bond Agent right now by calling (619) 377-3667, or completing the web form. San Diego Bail Bondsmen are standing by ready to help 24 hours a day, seven days a week. San Diego Bail Bonds residents can trust, come from All-Pro Bail Bonds. All-Pro Bail Bonds San Diego is a Better Business Bureau accredited bail bonds company.
Bail Bonds in San Diego, California
The city of San Diego is located in southern California, situated 120 miles south of Los Angeles and 15 miles north of the US/Mexico border. The main San Diego Superior Courthouse is located at 220 West Broadway in downtown San Diego. The San Diego Hall of Justice is also located in downtown San Diego, at 330 West Broadway. Those individuals arrested in San Diego are typically housed at the San Diego Central Jail, located in downtown San Diego, at 1173 Front Street.
Bail Bond Agents
Our bail bond agents are qualified bondsman with experience writing bail bonds to get people out of jail. The bail bonding agent facilitates the process of sending the bond to the jail for a timely release. All of All-Pros Bail Bond Agents, Bail Bonding Agents and Bailbondsman are here to serve you. Give us a call we are ready 24 hours a day to talk to you.